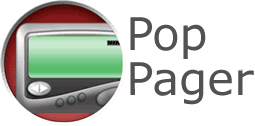 Forward mail to your cellphone

Excellent Command and Control
Decide who contacts you and when they contact you!
Monitoring – Control over POPPager forwarding lets you determine when the application actively monitors a POP box.
Filtering – Domain-based filtering will monitor a POP box for e-mails, and only forward messages from the domains you identify.
Message Size – Restrict the size of SMS messages sent to your wireless device. Many wireless providers restrict or even reject messages that exceed certain size boundaries. Make sure the messages are truncated before they are forwarded.
* all mail that is within the POP mailbox that is being monitored will be deleted once checked by POPPager.
Device Support and Messaging
Use any modem to send an SMS message to devices around the globe!
Modem Support – Don't worry about complex modem configuration or commands. If a modem is properly configured on your Windows XP machine – it will work with POPPager.
Protocols – Support for both the UCP and the TAP protocol allows POPPager to be useable with most wireless carriers worldwide.
Lightweight
Run on any machine without an impact to performance!
Small Storage – Uses less than 1 MB of disk space! (the application without the runtimes!)
Memory Efficient – Uses less than 7MB of RAM when actively forwarding mail or while in idle mode!